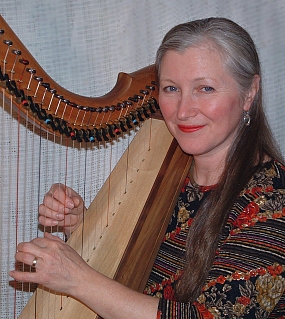 Kasha Breau, Celtic Harp
Kasha Breau: Celtic harp, piano and vocals
Kasha is a traditional harpist and singer who plays original music and folk songs from around the world on modern reconstructions of medieval and renaissance harps as well as the modern concert harp. A graduate of the Hartt School of Music, Kasha teaches harp, voice, piano, and organ and gives performances and workshops in harp playing technique throughout the United States. In addition to the harp, she has a special interest in the kantele, an early zither-like instrument of Finland and is one of the few active performers on this instrument.

Kasha is the harpist, vocalist, and keyboard player in the Wild Notes. The harp is an unusual instrument in a contra dance band and it adds a celestial sweetness to the three-part harmonies and a soothing texture to the ballads and traditional tunes. When the tunes get wild and furious, Kasha switches to the keyboard to fill in with a rhythmic and jazzy flavor. A true ballad lover, Kasha can melt the coldest critics with her lilting soprano voice.

She fills her life with more music as organist and music director at the Congregational Church in Portland, Connecticut and as a solo performer and harp teacher. When not performing, she is a teacher/naturalist and wildlife specialist and rehabilitates injured and orphaned wildlife.